Sending Newsletters using Email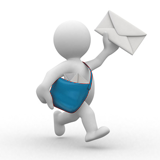 If you are a business owner, you would know and understand the importance of sending newsletter to promote your business on a regular basis. Most small business owners try sending newsletters online, but they are not really sure of the basics of sending newsletters. Following are certain tips which can be
very helpful for such people.
First of all, you need to understand on how to design a newsletter before you start sending them. You can always design a newsletter using templates available on your Windows by typing in the keyword on the search box. Once you have found templates, search for the newsletter option, you will find really interesting options, in which you can always input your details in.
Secondly, one point that discourages business owners from sending newsletters is what to write about in their email newsletter. They find coming up with a topic to be a very technical task. But do not worry, there are lots of things you can write about, such as surveys relating to your business, tips, trends and news about the company and a lot more. Most successful business owners who have been sending newsletters, mainly base their topics on customer response and queries. So the best way would be is to listen to what your customer has to say. The best topic would be the question or comment that your customers have been stressing a lot on, and you can start sending newsletters based on this data.
Third comes the more practical part. This part really discourages many business owners for actually going for publishing and sending newsletters to subscribers. The question often is when to send newsletters. Most experienced business owners prefer to send a new newsletter every six months or so through an email because it is cheaper and more economical. You can also send every month, but you can always go for a quarter too. While the period part does not matter, but you should always stick to your schedule.
The best way of sending your newsletters is through email. This is a great option since it is more economical and also, you can always keep track on who you are sending it to. Always use the Blind Copy (Bcc) field present in your email template. This allows you to send bulk messages, and none of the recipients would be able to see any one's, except for his, email address. Also take a final look before you send your newsletter to make sure it looks great.
Continue sending your newsletters. Do not stop after 4 or 5 issues. Write in advance before you send them to your users.